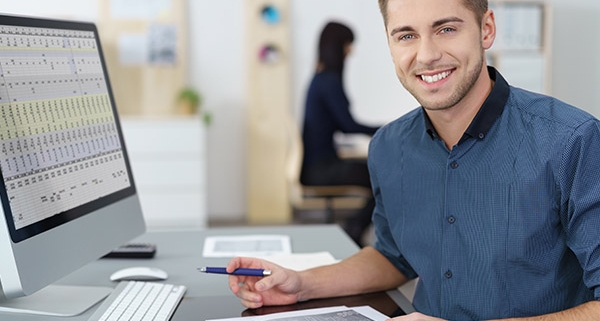 At some point or another, an organization needs to purchase products, services, or other items for its business. Some of these are recurring purchases like stationary or cleaning supplies, but what about other necessary purchases that are less frequent?
Successful organizations need to manage these purchases in a way that ensures funds are being responsibly spent and are being tracked. The most common and effective way to do this is through purchase requisitions. 
We'll cover what a purchase requisition is, how they work, and how Mosaic can help your organization automate this process to be even more effective for your organization's needs.
What is a Purchase Requisition?
Purchase requisitions are a key document in the accounting process for many organizations. Unlike a purchase order, which is the document used to acquire goods or services, a purchase requisition is a document that employees utilize to request the purchase of goods or services, essentially it's the step required before the purchase order.
By creating a purchase requisition, the employee is formalizing their request for the goods or services they need. Purchase requisitions are typically created by employees and include details as to what is needed, how much it will cost, who needs to approve it, and when it's due. This document then goes through an approval process before becoming an official purchase order. 
A purchase requisition should include the following details:
Once a complete requisition is approved by the necessary stakeholders, it will then become a purchase order. A purchase order is a legally binding document that provides all the information about the transaction between the supplier and purchaser, including pricing, delivery dates, payment terms, and other details.
How do Purchase Requisitions Work?
Traditionally, a purchase requisition starts with an employee wanting to purchase something from a vendor or supplier, whether it's a physical item, digital software, training, or a service, in most organizations, employees need to get internal approval from their manager, department head, leadership, or accounting. Some organizations require a purchase requisition for every form, others have a set dollar threshold, and others only require it for specific departments.
For some organizations, this may be a physical form that employees need to fill out and drop off to those who need to approve it, for others, there may be no real process beyond employees emailing their requests, which makes it impossible to track and difficult to approve.
Typically the information needed to complete this request includes product description and quantity, name of vendor, price, name, and department of the purchaser, and other company or department-specific information.
Why are Purchase Requisitions a Critical Part of the Purchasing Process?
Purchase requisitions are an important piece of the puzzle in accounting and finance, as they provide auditing information to ensure that funds are being spent responsibly. They also allow organizations to track exactly who is requesting what items and from which vendors, as well as how much these purchases cost. This helps organizations to understand their spending and where funds are being allocated, which is invaluable in budgeting for the future.
To better understand the importance of this process, consider this common operational issue:
An employee in one department at an organization realizes that they are running low on a specific item that they use daily, so they simply go ahead and purchase it using their company credit card. 
A few days later, before the shipment has arrived, an employee in a different department realizes the same item is running low, so they do the same thing and purchase the item, in the same quantity, to be used for the same purpose. Without either of them realizing it, that item has been double purchased and now the company is paying double what they should have. 
Now in this scenario, it's not the end of the world, but if this scenario happens frequently, it leads to overspending and a surplus of unneeded items.
What is Purchase Requisition Automation?
Purchase requisition automation is the process of using software to automate the creation, approval, tracking, and settlement of purchase requisitions. This automated system can track the progress of each requisition from creation through delivery. It also helps ensure that all purchase requirements are met while following company policies and procedures.
Why Automate Your Purchase Requisitions?
Automating your purchase requisitions can save time and money while also streamlining your approval processes so you can focus on other areas within your organization such as customer service or product development instead of worrying about the stress of paper processes! Additionally, automating this process ensures accuracy when tracking spending which allows you to easily identify discrepancies in pricing or payment terms if any arise during the purchasing process so you can quickly address them before they become an issue! All these benefits combined make automating your purchase requisitions a no-brainer for most organizations!
Automation also helps streamline the entire process, resulting in less time spent on paperwork and more time spent finding the best solutions for your business. 
Read more: Maximizing Your Accounts Payable Process: Best Practices and Strategies for Success.
Benefits of Automating the Purchase Requisition and Approval Process
The benefits of automating your purchase requisitions include improved efficiency, processing cost and labor cost savings, accurate tracking, streamlined approvals processes, and increased visibility into spending. By automating this process you can reduce paperwork, eliminate error-prone manual processes and ensure that all orders are approved by the appropriate level of management before being fulfilled. Additionally, automated systems make it easier to monitor spending, identify discrepancies in pricing or payment terms and quickly address any issues that arise during the purchasing process.
Successful Scenarios of Automated Purchase Requisitions
Now let's look at some scenarios of what you can expect from successfully implemented automated purchase requisition systems:
ABC Corporation implemented an automated purchase requisition system which helped streamline their procurement processes by reducing paperwork and manual data entry errors while also ensuring that all purchases were approved at the appropriate level before being fulfilled. This resulted in cost savings for ABC Corporation since they were able to track spending more accurately and quickly address any discrepancies in pricing or payment terms that arose during the purchasing process.
XYZ Company implemented a similar solution which allowed them to effectively manage their procurement processes while ensuring that all purchases were properly authorized before being fulfilled. This resulted in increased efficiency since their processes were streamlined which enabled them to focus more resources on other areas such as customer service or product development instead of having personnel manually entering data into spreadsheets or shuffling paper around trying to keep track of orders or invoices manually!
Read more: Purchasing Automation: Why You Need to Automate the Procurement Process.
How to Automate Purchase Requisitions
To prevent the aforementioned purchase requisition problems, it's beneficial to introduce a straightforward and easy-to-follow process for employees' future purchases. However, just relying on traditional forms isn't sufficient; with web forms and document management systems in place, you can build an automated procedure that is tailored specifically to your company's requirements. This way, not only will everyone understand what they need to do when making a purchase but also save time by having everything handled electronically!
Harness the power of technology and streamline your purchase requisition process by automating your purchase requisition process. With custom form fields, you have the power to tailor your requirements like department or e-signatures for accounting purposes when needed and view them from any remote location.
An automation solution is the ultimate tool for streamlining processes. By creating and completing a web form, an employee can then have it sent instantly to their manager for approval – granting them rapid feedback and quick notification of its approval. That form can then get automatically pushed to your ERP, where your accounting department can then properly plan for the costs, and also file the form into your document management system, which will establish a record of spending history with that employee.
Your Paperless Purchase Requisition Partner
Mosaic is an experienced and trusted provider of purchase requisition automation solutions. We understand that no two clients have the same needs; so, we provide solutions tailored to meet your customized requirements. Our team of digital transformation consultants has extensive experience in creating automated forms for a variety of organizations, making sure that all data remains secure and easily accessible when needed.
You can trust our team to help you develop a paperless solution for your company that will make purchase requisition easy and efficient.
We also offer ongoing post-implementation support to ensure that your automated purchase requisition system is constantly updated, and running smoothly in order to maximize its effectiveness.
Contact us today to learn more about our services and how we can aid you in your digital transformation journey!
https://mosaiccorp.com/wp-content/uploads/2023/01/streamline-purchase-requisitions-blog.jpg
400
600
Mosaic Corporation
https://mosaiccorp.com/wp-content/uploads/2020/08/mosaicpaperless_250.png
Mosaic Corporation
2023-01-10 08:55:48
2023-11-01 14:10:16
How to Streamline Purchase Requisitions with Automation