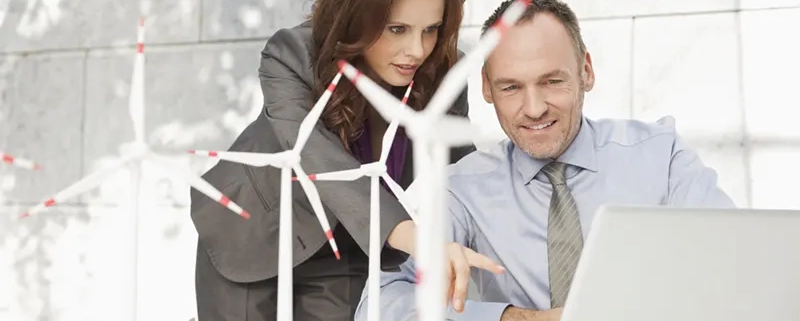 Did you know that going paperless can save your utility or energy company a significant amount of money? In fact, estimated that businesses can reduce invoice processing costs by up to 66% with a paperless system. That's because automating the process with software eliminates the need for human intervention, which means there are fewer mistakes and less wasted time and resources.
In this blog post, we will discuss the benefits of going paperless and how automation software can help your business achieve this goal. Look no further, we've got your new paperless-office strategy covered.
Why Should Energy And Utility Companies Go Paperless?
According to a recent study by Deloitte, 46 out of 54 US investor-owned utilities committed to reducing carbon emissions, many by 2050. The study explains the primary goals of the energy and utility industry as we head into the future:
"[…] boosting clean energy, ensuring reliability and resiliency, and maintaining security, while keeping costs down. To tackle this tall order, the electric power industry will likely continue to advance in its '3D' transformation: decarbonization, digitalization, and decentralization. We'll be watching for technology deployments to advance and markets to evolve."
There are many reasons why your energy or utility business should consider going paperless, but with the industry's focus on renewable energy and green practices, digital transformation is all the more crucial. As your company prioritizes implementing digital software like AP automation, you can meet your sustainability goals while also experiencing the many of the operational and financial benefits of going paperless.
What Are The Benefits Of Going Paperless?
There are numerous benefits of going paperless, but here are a few key advantages that your utility or energy company can experience:
Cost Savings
As we mentioned before, automating your AP process comes with a significant ROI. While the average business spends about $17.61 per invoice, World-Class AP departments that utilize AP automation software cut their cost per invoice down to only $2.42 per invoice.
Paperless automation software reduces these costs by eliminating manual data entry for improved accuracy and efficiency. You'll also save on operational costs, paper, storage, and shipping costs by going digital.
Try out our Paperless ROI Calculator to see how much you could be saving.
Faster Invoice Cycles
With paperless AP automation, you can expect to see a drastic reduction in your invoice processing time. Because the entire process is automated with built-in workflows, invoices are automatically moved onto the next step to avoid bottlenecks that slow down your AP process.
When your invoice cycles are faster, your company can also capture early payment discounts and benefit from improved relationships with vendors.
Operational Efficiency
Paperless AP automation will streamline your entire process and make it more efficient. With built-in workflow approvals, you can customize the steps for each invoice and ensure that they are routed to the appropriate person for review.
This level of automation will not only improve your overall efficiency but also reduce the likelihood of human error. Your finance teams will be relieved of their manual data entry responsibilities and empowered to focus on tracking metrics to improve your business. Your company can also cut down on employee overtime for reduced labor costs that also save your staff from potential burnout.
Increased Visibility Into KPIs
Digital AP automation gives you complete visibility into your spending at all times with real-time data and analytics. With this level of transparency, you can make more informed strategic decisions about where to allocate your resources. You'll also have greater control over the entire process and be able to catch errors or fraud quickly, all on one cloud-based system.
Heightened Security Measures
When you go paperless with AP automation, your data will be more secure because it will be stored electronically. This is opposed to a manual process where documents can easily get lost or stolen. With digital software, you can also set up permissions and access controls to ensure that only authorized personnel has access to sensitive information.
Improved Sustainability Practices
As we continue to focus on renewable energy and green initiatives, it's important for utility and energy companies to consider their own sustainability practices. One way you can reduce your carbon footprint is by going paperless with digital AP automation.
You'll not only save trees but also the water and energy needed to produce paper documents. Automation software also eliminates the need for physical storage space, which reduces your company's reliance on natural resources. A paperless office is a win-win for both your business and the environment.
Read more: Why You Should Transition Accounts Payable To Paperless
These are just a few of the many benefits that your utility or energy company can enjoy by going paperless. But how do you get started?
Go Paperless Today
If you're ready to take your utility or energy company paperless, Mosaic is here to help. We offer a comprehensive AP automation solution that will streamline your entire process. Our software is easy to use, scalable, and customizable to fit the unique needs of your business.
We also offer paperless consulting and expert support every step of the way so you can be confident in your transition to a paperless office.
Contact us to go paperless today!
https://mosaiccorp.com/wp-content/uploads/2022/04/utility-and-power-companies.webp
533
800
Mosaic Corporation
https://mosaiccorp.com/wp-content/uploads/2020/08/mosaicpaperless_250.png
Mosaic Corporation
2022-04-27 12:04:25
2022-05-04 08:32:01
Benefits of Going Paperless for Utility and Energy Companies