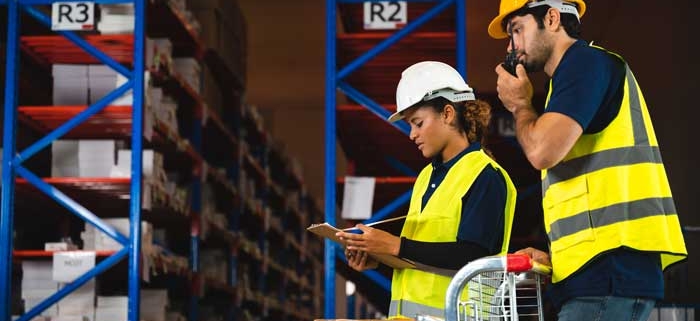 Customer order processing can be stressful and time-consuming but it doesn't have to be. Updates in digital workflows with automation have changed the game for multiple business processes like customer order processing. 
If your company struggles with bottlenecks in your order processing procedures like shipping to the wrong address, running out of stock, delays in shipment, mountains of paperwork, and human errors in data entry, then it's time to reevaluate your customer order processing practices. 
Online retailers and eCommerce businesses like Amazon have taken over the consumer market and if your business wants to keep up, then faster processing is a top priority. The market will soon demand faster and easier everything, or customers will take their business elsewhere.
We've provided an outline for how to eliminate these error-prone processing procedures and update your business with sales order automation so you can stay in the game and even develop an edge up on your competitors.
Customer Order Processing Step By Step
Before we get into how to speed up your customer order processing practices, let's break down the process step by step.
Step 1: Order Placement
After customers place orders to your business, the order information like items, quantities, shipping details, and shipping address are recorded and entered into ERP by the order management department to prepare the order.
Step 2: Picking Inventory
Once the order management team compiles the order information, it is sent to a warehouse or business location where workers pick out the necessary inventory to complete orders.
Step 3: Sorting
After the inventory items are located and picked, warehouse workers sort the individual items to fulfill each order.
Step 4: Packing 
When items are collected and sorted by order, workers can then package each order, weigh the package, record shipping costs, and add a shipping label.
Step 5: Shipping 
The last step in this process is shipping and transporting the orders to the consumers for fulfillment. The shipping process includes loading the package into a vehicle for transport where it will go through the FedEx or UPS system for delivery.
Traditional Customer Order Processing
Traditional customer order processing operates on physical labor and manual data entry. In every step of the process, workers gather information from the customer orders, compile it, and set it up for the next step. Because of this chain structure of processing, if a worker makes a mistake at any step of the process, it can throw off the entire fulfillment process and result in an incorrect order.
Some of the most errors common occur in the first step when purchasing orders are placed and data is entered into ERP by the order management department. If the business processes numerous orders or moves too quickly, it is easy for employees to incorrectly enter data. If a worker records an order delivery as the standard 3-5 day delivery time instead of the 2-3 day delivery time that the customer paid for, then the order will fail to be processed fast enough and the company's customer satisfaction rates will be hit. 
Some other common human errors include entering, incorrect shipping addresses, item quantities, types of items, lack of stock, and the warehouse location of the items. Verbal miscommunications may also be made when sorting the orders and gathering inventory. When these mistakes are made, the entire manual order processing chain is fed incorrect information and even if another worker down the line catches the mistake, the fulfillment process becomes slowed and bottle necked.
This leads to extra work and later returns that require more order processing. Your customer base will become frustrated if they need to reach out to customer service representatives when their order is missing items. A customer service rep may result offering a product to the consumer for free or giving a significant discount to avoid losing their business. These mistakes cause lost profits, waste time, and hurt the customer experience. 
Standardize Your Order Forms
Standardizing your order forms can be an entry stepstrep into faster order processing. How do your customers place orders? Many companies have online shops where customers can place an order from the comfort of their homes. Businesses also offer the option of placing an order through a staff member in a company store if it is out of stock at that physical location. Few companies also still allow customers to place orders over the phone to a staff member who enters data on their end. 
If your business has multiple avenues for placing orders, then these order forms must be standardized. If your order management department is processing a large number of orders per day then it will slow them down to adjust their entry practices based on a collection of different forms. By standardizing your customer order forms, the process becomes less confusing for workers and mistakes can be minimized. 
By standardizing your order forms, your business can also prepare for the transition into sales order automation for an even faster fulfillment process.
Sales Order Automation
Sales order automation is the key to speeding up the customer order processing system. Sales order processing software uses Intelligent Data Capture technology (IDC) to increase productivity and cash flow by removing the object of human error by manual data entry.
Workers no longer need to enter order data into ERP because IDC automatically captures the order data then extracts it to index the data into your ERP system.
Processing automation streamlines order processing time by essentially doing the hard work for you in a centralized location. Workers no longer need to enter order data into ERP because IDC automatically captures the order data then extracts it to index the data into your ERP system. The ERP system then automatically reviews and validates the order information and moves it onto the next step in the process.
If there is an error in the data, such as a missing shipping address, then the software will recognize the mistake and send the order information to a staff member who can review the order and contact the customer for necessary information. Other than that, no workers or manual intervention is needed for customer order data entry. 
By implementing sales order automation, companies can increase productivity and cash flow. Bottlenecks in the process are removed when the automated processing workflow removes room for human error and operates flawlessly at a much higher speed. Companies are free to re-assign employees to more important tasks and even cut down on payroll if workers are no longer needed.
Increase Customer Satisfaction
Beyond the benefits to your staff member's time and resources, automation software also offers key benefits in increasing customer satisfaction. Customer expectations may even be exceeded as orders are processed and fulfilled faster than the estimated delivery time.
Remember when we talked about traditional order processing practices and how manual entry runs the risk of late deliveries? Well, with automation, the placement to delivery process is much faster so consumers will be pleasantly surprised when their order arrives before schedule. Faster shipping times provide a competitive advantage against other businesses. 
Orders are also far more likely to be correct because order data and inventory levels are stored in a cloud-based secure system that can be accessed and updated warehouse management through company tablets or mobile devices. This ensures that stock data, product availability, and inventory records are up-to-date for accurate order processing and even on your business's website. Gone are the days of customer frustration when customers place an order only to be hit with a message that the item is out of stock a day later.
The customer experience is improved when they are in the know about the status of their order and estimations on transit times.
This cloud-based system also opens your business up to real-time order tracking by your staff and your customer. The customer experience is improved when they are in the know about the status of their order and estimations on transit times. 
Conclusion
Sales order processing automation is the future of business practices and traditional manual processes will soon become extinct. We have entered into a digital age that has allowed for massive innovations in the way we work and the speed at which processes operate. 
Demand forecasting predicts that the customer experience is more important than ever and companies will lose business if they don't prepare for the ever-growing future demand for speed, transparency, and efficiency. Happier customers make a happier business, so throw out those manual systems. 
Your business can also benefit from automation in your accounts receivable and payable department. Similar to how customer order processing can free up businesses' time, AP automation fixes the invoice approval process and speeds up B2B payments for increased productivity and cash flow.
Your business procedures will see a monumental advantage through automation as valuable time is saved. For more information on ways to digitally transform your business, check out our blog post on Contract Lifecycle Management Software. 
Contact us today to begin automating your business practices for faster customer order processing.
https://mosaiccorp.com/wp-content/uploads/2021/08/warehouse.jpg
466
700
Mosaic Corporation
https://mosaiccorp.com/wp-content/uploads/2020/08/mosaicpaperless_250.png
Mosaic Corporation
2021-09-15 09:00:32
2021-10-19 12:58:54
How to Speed Up Customer Order Processing